El Camino Real de Tierra Adentro


Parida Hill
Arroyo de los Pinos

Wagons were double-teamed to ascend the hill. The livestock with the caravans were routed through a saddle a bit to the west.It was generally an all day job getting the livestock, wagons, and people over the hill. Many caravans made camp at the north foot of the hill, in an unnamed arroyo, and close to the river bed to rest before the next day's journey. There are several visible threads of the trail atop Parida Hill.
Good views where the trail crosses an arroyo and visible on both sides. On north side, view of a split in the trail, where it appears the earlier trail was damaged by a ravine, and the later trail was routed around the obstruction.

soc-N1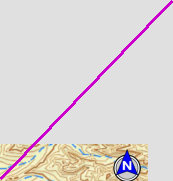 Parida Saddle

Parida village



Muncy Ranch route
A short, pristine section of the trail departing the Muncy Ranch road, leading into an unnamed arroyo northward towards Sabino village.


Parida Arroyo canyon
Parida was a village on the trail and the Rio Grande, destroyed by floods in 1929 and 1937. For southbound caravans, it was "the last village until Doña Ana."
The trail crosses a ridge then turns north to Parida. Years of wagons wore a deep saddle over the sandstone ridge, still visible today.
SOCORRO
1

Trail photo
• LEGEND •
Aerial photos with DJI Phantom 3 quadcopter camera








West trail
East trail