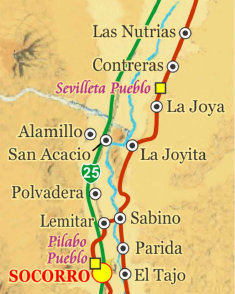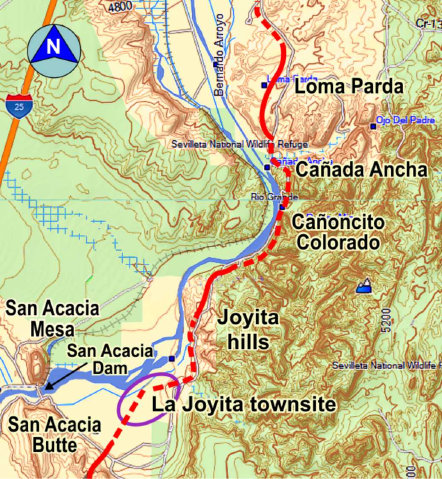 El Camino Real de Tierra Adentro
Trail photo
• LEGEND •
joya
Aerial photos with DJI Phantom 3 quadcopter camera

1




La Joyita townsite





Elevation plot, La Joyita to La Joya
Trail over Loma Parda



Photos of the "CCC boys" building the Camino Real Highway near La Joya in 1937.



San Acacia Dam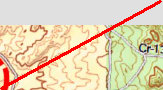 El Camino Real trail
Trail vs. old highway
Meaning "Gray Hill" in Spanish, this was a 100+ foot climb on the trail, though smooth and flat along the top terrace for the wagons before the descent back into the Rio Grande valley.
The GoogleEarth image shows an example of where the 1937 Camino Real Highway deviated from El Camino Real trail, where both can be easily seen.
La Joyita had a population of 186 in the 1850 census and grew to 460 by 1880 due to the rich farm land irrigated by the Rio Grande. The river location made for a nice stop on the trail, being about mid-way between La Joya and Sabino. The town was completely destroyed by a flood in 1886, the very end of El Camino Real usage.
Built in 1934, following the 1929 flood, to control flooding and irrigation water down stream. The dam was used 1937-1940, in addition to a ferry, to cross to the east side of the river for the Camino Real highway to La Joya. There was also a ferry at San Acacia for crossing the river used by autos and larger trucks.




Dam