El Camino Real de Tierra Adentro
Exiting Alamillo arroyo
Elevation plot, Alamillo arroyo to La Joyita townsite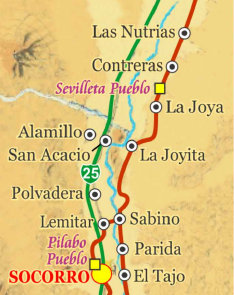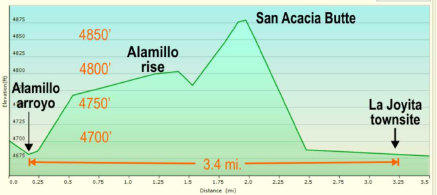 Near Bolon Guin (Bowling Green)
La Joyita townsite
La Joyita was established on El Camino Real in the late Mexican period. First mention is by surveyor Lt. Abert in 1846. It is a documented stop on the trail. La Joyita was destroyed in the 1884 flood. Subsequent floods and building the San Acacia dam has inundated the townsite.
Bolon Guin was a short lived village of 145 residents destroyed by flood in 1886. Residents resettled across the river at Chamizal.
El Camino Real remains visible where it departs the Alamillo Arroyo and climbs the elevation northward towards Bolon Guin. Further north, an old ranch road to La Joyita appears to parallel or bladed on top of the trail in places.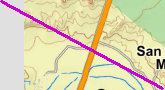 4
soc-N4
Trail photo
• LEGEND •
Aerial photos with DJI Phantom 3 quadcopter camera