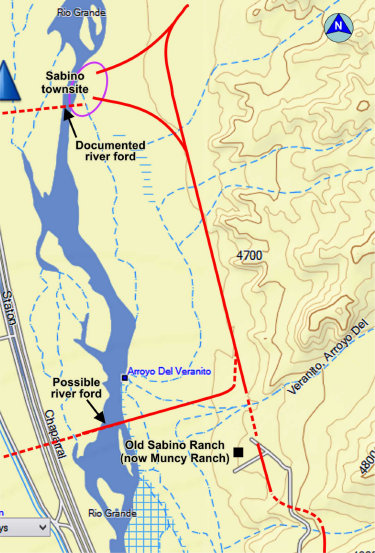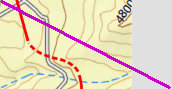 Sabino Ranch





Sabino village first mentioned 1780; a popular stop on the trail and well documented river ford, including by U.S. Army supply wagons enroute to Ft. Craig. Abandoned around 1870-80; townsite destroyed by 1929 flood.
Sabino Ranch is historic and on the trail. Now part of the Muncy Ranch. Original historic ranch house was razed late 1990s, leaving only corrals and the Sabino Well. Oral history states a river ford near the ranch was used to cross to Lemitar and Socorro on west side of river. The primary river ford (documented) was located at Sabino village.







El Camino Real de Tierra Adentro
Spur to river ford
Trail to Sabino
Trail to Sabino
soc-N2
2






Wagon path runs from trail to river through bosque - possible river ford to west side
Oral history from Chuck Muncy states his father purchased the Sabino Ranch 1930s, and the property line extended from the river east "to the Camino Real." The fence line hugs the trail.

Trail photo
• LEGEND •
Aerial photos with DJI Phantom 3 quadcopter camera